The NH Women's Golf Scholarship (formerly known as the NHWGA Scholarship) is awarded to a female resident of New Hampshire or a playing member at a New Hampshire golf club.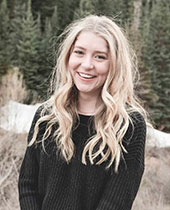 Heather Bernstein
Heather, a graduate of Murray High School, UT, will be a freshman at the University of Pennsylvania's Wharton School of Business. She has a passion for politics and business and dreams of a career in handling international relations for the government or private businesses. As a high school student, Heather actively engaged in state and local political campaigns and her state's chapter of the Future Business Leaders of America organization.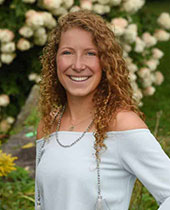 Hannah Drew
Hannah is a sophomore at the University of Hartford. Her goal is to pursue a master's degree in civil engineering. Hannah is on the women's golf team at college. As a youth, she participated in the NHWGA Jr. Championship and last year played in the NHWGA Championship. She plays out of Bretwood Golf Course.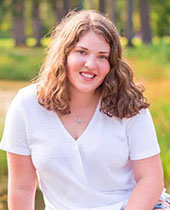 Ainsley Mazerolle
Ainsley, a graduate of Nashua High School South, plans on attending Keene State College in the fall. Her goal is to become an elementary school teacher working with trauma ridden children. She was a member of the varsity swim and dive team during her four years of high school and was named captain in her senior year. Ainsley volunteers with the New Hampshire Special Olympics as a swim coach and is working part-time as an assistant teacher in the Nashua Child Learning center.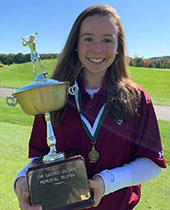 Meredith Morhun
Meredith, a graduate of Hanover High School, plans on attending McGill University. She wishes to major in business with a minor in science. In high school, she was a member of the boys' varsity golf team, as there was no girls' golf program. In 2019, she was named the NH Girls Golf State Champion, shooting a 77 at Campbell's Scottish Highlands.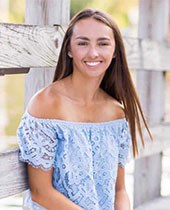 Alexis St. Laurent

Alexis, a graduate of Nashua High School, plans on attending Franklin Pierce University majoring in marketing. She has played golf since the 4th grade, has participated in the NHWGA Jr. championship, and is a member of the 2020 NH New England Women's championship team. While in high school, she with 3 others, launched Green Lemons. Green Lemons is a program that helps bridge middle and high school technological classroom curriculums in the Nashua School District, while inspiring students to become entrepreneurs. Green Lemons has held 22 events reaching over 300 students within the district.